How to prepare for your first cruise
You've taken the plunge and booked a holiday on the high seas! Anticipating your first cruise is incredibly exciting – a wave of excitement in fact!
There's usually a whole host of destinations to explore, an abundance of on-ship activities and entertainment on offer, plus an absolute buffet of dining opportunities to pick and choose from.
Admittedly that means there are more decisions to make when it comes to planning and packing than on a traditional land-based holiday. So, whether you're travelling with friends or family, you want it to be as smooth sailing as possible and it's best to be prepared. From that pre-cruise checklist to travel tips once you've set sail, Kwells is here to help you enjoy the journey! Here's our guide to ensuring everything's watertight before you leave and once you've set sail.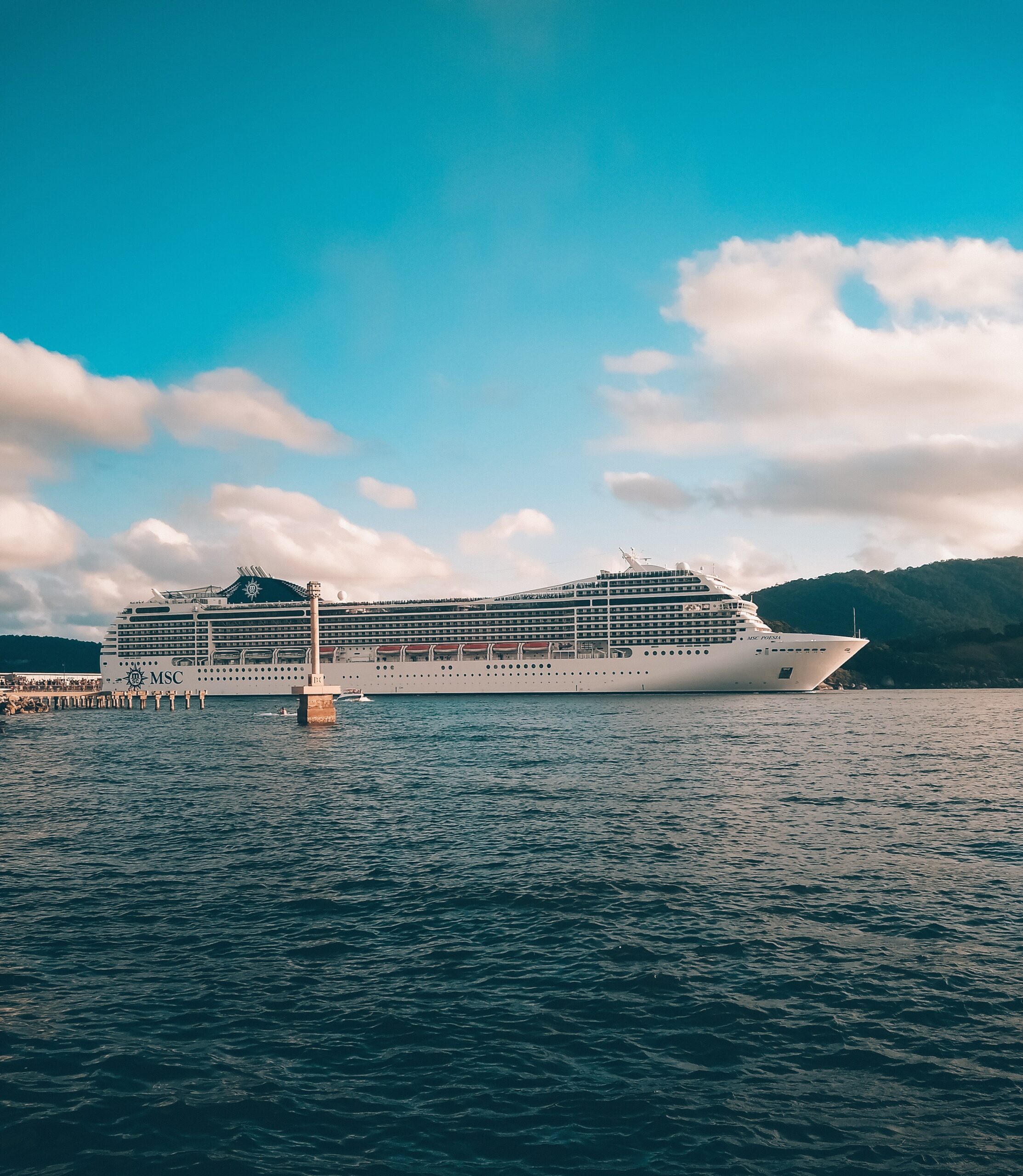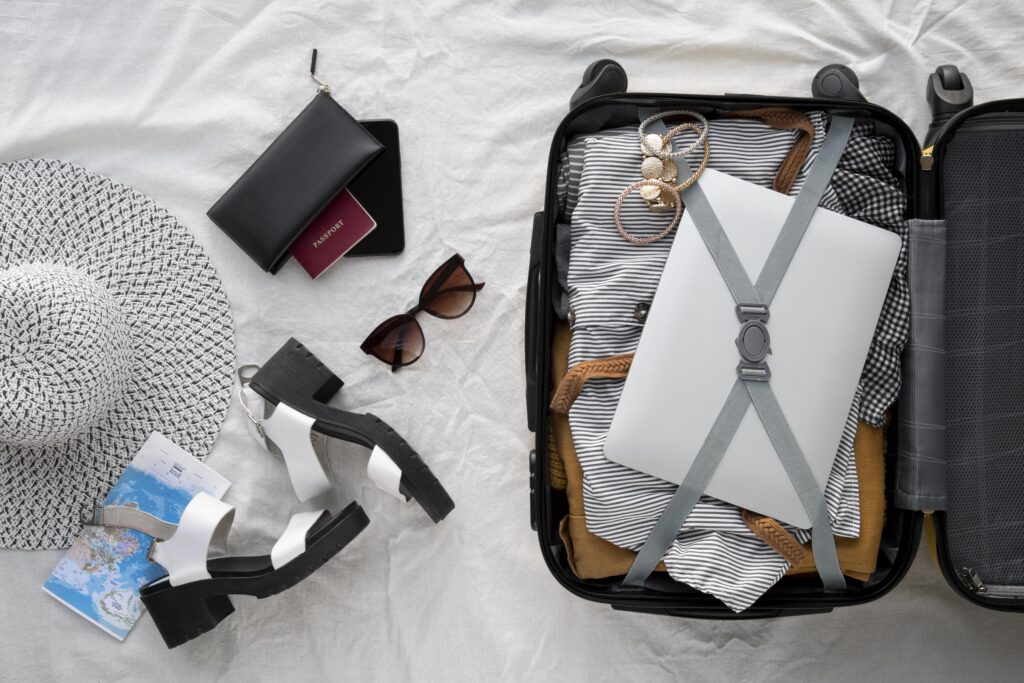 Packing the essentials
You're all booked, what's next? Once the tickets, luggage tags and pre-check-in information are all nicely dealt with through your cruise line operator, you'll be able to book those excursions and dining reservations – a real taste of the adventure that awaits!
Unless you're cruising around the UK, you'll obviously need a passport and depending on where you'll be travelling to, you may need a visa or other forms of official ID – best to check all this with your cruise line or travel agent.
The countdown to riding the wave
Whether you're a super organiser who likes to prepare well in advance or someone who decides on the contents of their suitcase the day before your holiday, there are a few extra considerations when preparing for a cruise and it's best to avoid being too last minute.
Of course, clothing choices will be based on the climate you'll be visiting but as a cruiser, you'll also need to factor in dress codes including any formal occasions or themed nights. That said, don't panic and throw everything in just in case. Cabins usually have more limited wardrobe and storage space and you don't want to be forking out for excess baggage charges.
Clothing basics include swimming attire, shorts, t-shirts, jeans and comfy shoes to walk in, as you're likely to be clocking up a fair few miles while sightseeing on dry land. Then there's the evening dress code ranging from cocktail wear and suits – tuxedos even! – to the sort of more casual attire you'd usually wear on a night out. Jeans are usually ok for buffets but keep the beach wear, baseball caps and flip-flops for poolside!
Packing the extras
There's no set-in stone dos and don'ts when it comes to packing toiletries and personal grooming accessories for your cruise – just decide on all the essentials that you'd usually take on holiday.
A first aid kit can come in handy, as can a laundry bag, zip lock bags for storage and something suitable for carrying wet clothes back from any beach days.
Maybe consider a money belt to store your cash, cards and official documents such as passports and a driving licence if you're planning to hire a car. Change can also be useful for tips.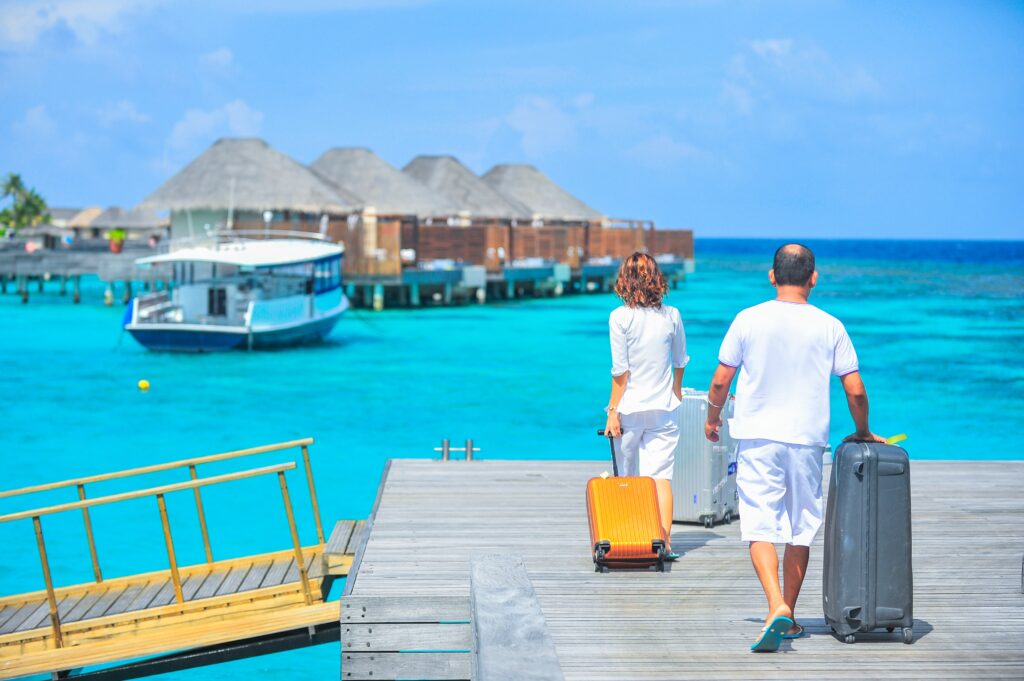 Seasickness preparation
Worries over whether seasickness will strike can certainly put something of a dampener on going on a cruise, particularly if you've never been on one before and you're wondering if it will spoil your experience.
The good news is, in the worst-case scenario, the majority of passengers who do feel seasick tend to experience it within the first 48 hours of being on a ship or boat before acclimatising and getting their 'sea legs'.1
What is seasickness?
Seasickness is a form of motion sickness, it's caused by the inner ear sending different signals to your brain from those your eyes are seeing.2 The inner ear senses motion while the eyes sense you're not moving and these confusing messages can cause you to feel unwell.2
Symptoms of seasickness
Symptoms include feeling sick, feeling weak, headaches, feeling cold, going pale and sweating.3 As with car, plane or train travel there are things you can try to prevent or relieve seasickness before you go down the route of taking seasickness medication.
If you're concerned, know you're prone to seasickness or you're travelling with someone who is, try these tips3:
Ahead of your journey avoid eating a heavy meal, opt for a light, carb-based food like cereal an hour or two before travelling.
You can keep motion to a minimum by sitting in the middle of the ship, preferably on deck where you can breathe fresh air – the same applies when selecting your cabin.
It may sound odd but try not to look at the waves! Look at the horizon instead.
You'll find more tips on preventing seasickness – and travel sickness in general – here.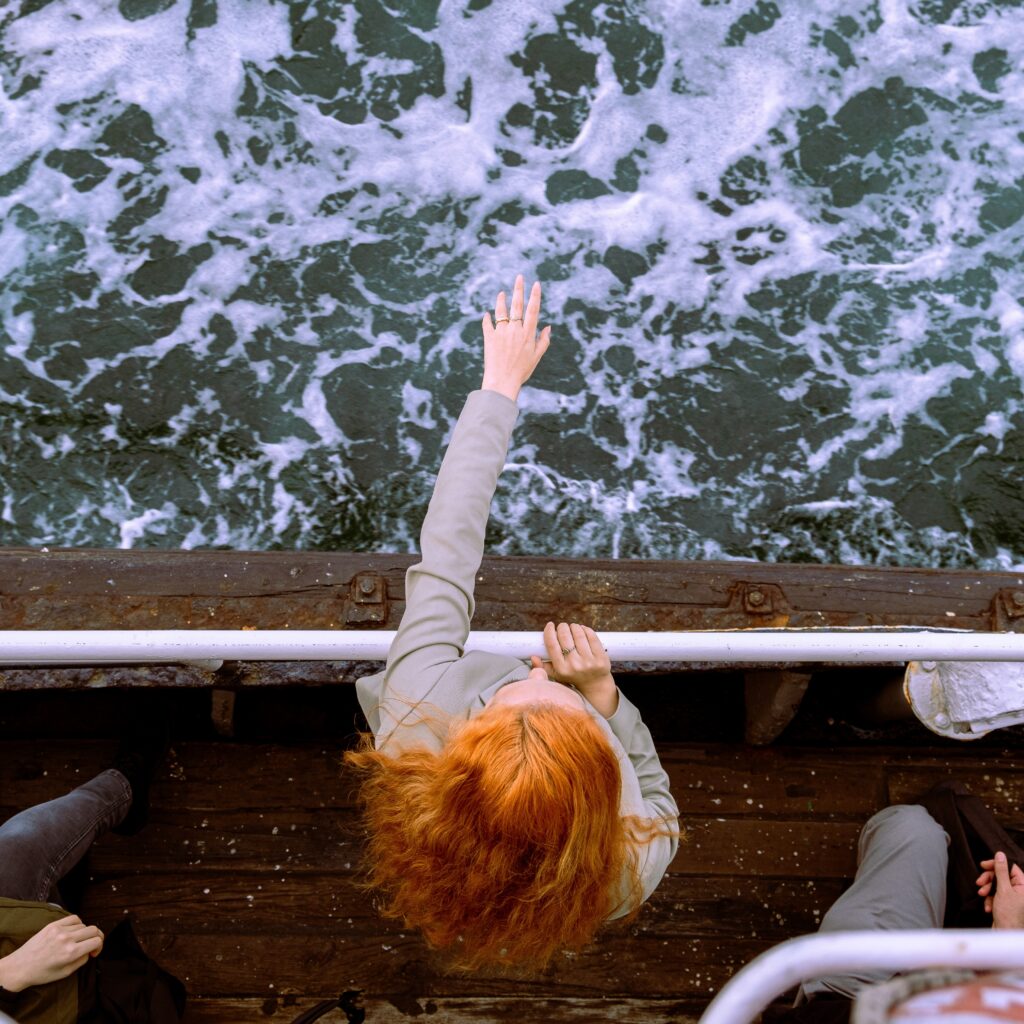 What to do if you're sick
If you're sick take tiny sips of water – be careful not to drink too much for the first 10-20 minutes or you may be sick again.3
Get some fresh air and try a cool flannel on your forehead. 3
If you still feel unwell try to sleep and when you feel well enough, try a light carb-based snack. 3
Motion sickness is common in children3 – find tips and advice on how to minimise the risk of it happening and how to be prepared in our blog.
Still moving?
Sometimes when you leave a boat or ship you can still feel like you're on it, almost like the ground is rocking beneath your feet!3
This is known as 'mal de debarquement' (French for 'sick on disembarking') and is a sensation believed to be caused by an overstimulation of the balance organs. It usually only lasts for an hour or so and doesn't require treatment.3
What about seasickness medicines?
If you're concerned about seasickness ahead of your first cruise, speak to your pharmacist about an over-the-counter travel sickness remedy such as hyoscine hydrobromide. Hyoscine hydrobromide – an effective medicine for motion sickness3 – is the active ingredient in Kwells for adults and children over 10 and Kwells travel sickness tablets for kids aged 4+.4 
Kwells travel sickness tablets
Hyoscine hydrobromide (the active ingredient in Kwells travel sickness tablets) temporarily reduces the effect of movement on the balance organs of the inner ear and the nerves responsible for nausea. Because Kwells tablets melt in the mouth, absorption into the bloodstream is very rapid and they can be taken up to 20–30 minutes before travelling or at the onset of sickness.4 Find out more about how Kwells help to prevent or relieve travel sickness or view all our travel sickness products.
Kwells 300 microgram tablets. For the prevention of travel sickness, suitable for adults and children aged 10+. Contains Hyoscine Hydrobromide 300 microgram. Kwells Kids 150 microgram tablets. For the prevention of travel sickness, suitable for children aged 4+. Contains Hyoscine Hydrobromide 150 microgram. Always read the label
Our Products
Short trips or big adventures, you can help end the misery and unhappiness of travel sickness.
Kwells 300 microgram tablets and Kwells Kids 150 microgram tablets are used for the fast and effective prevention and control of travel sickness.
Contains Hyoscine Hydrobromide
Helps prevent travel sickness
12 tablets
Explore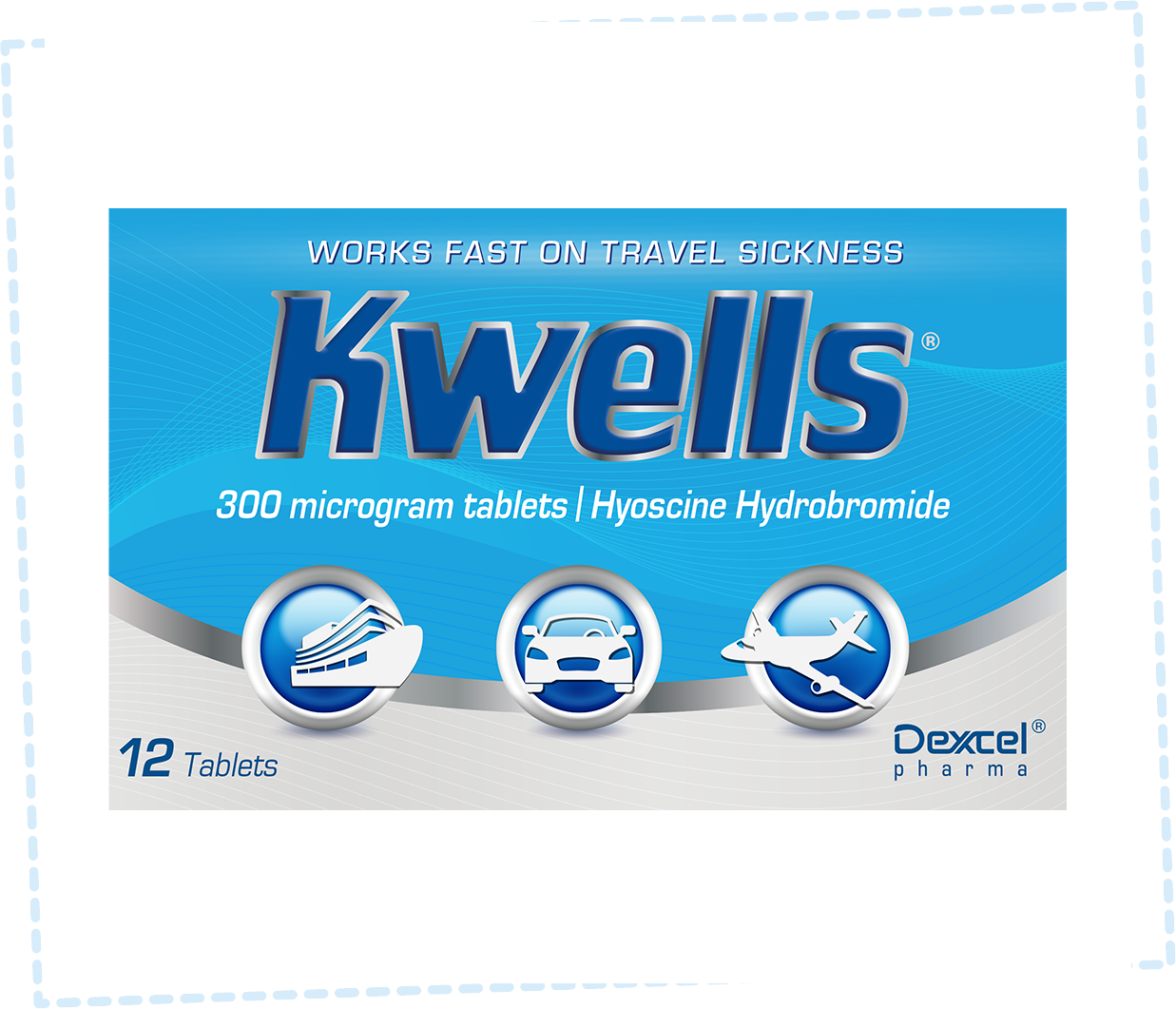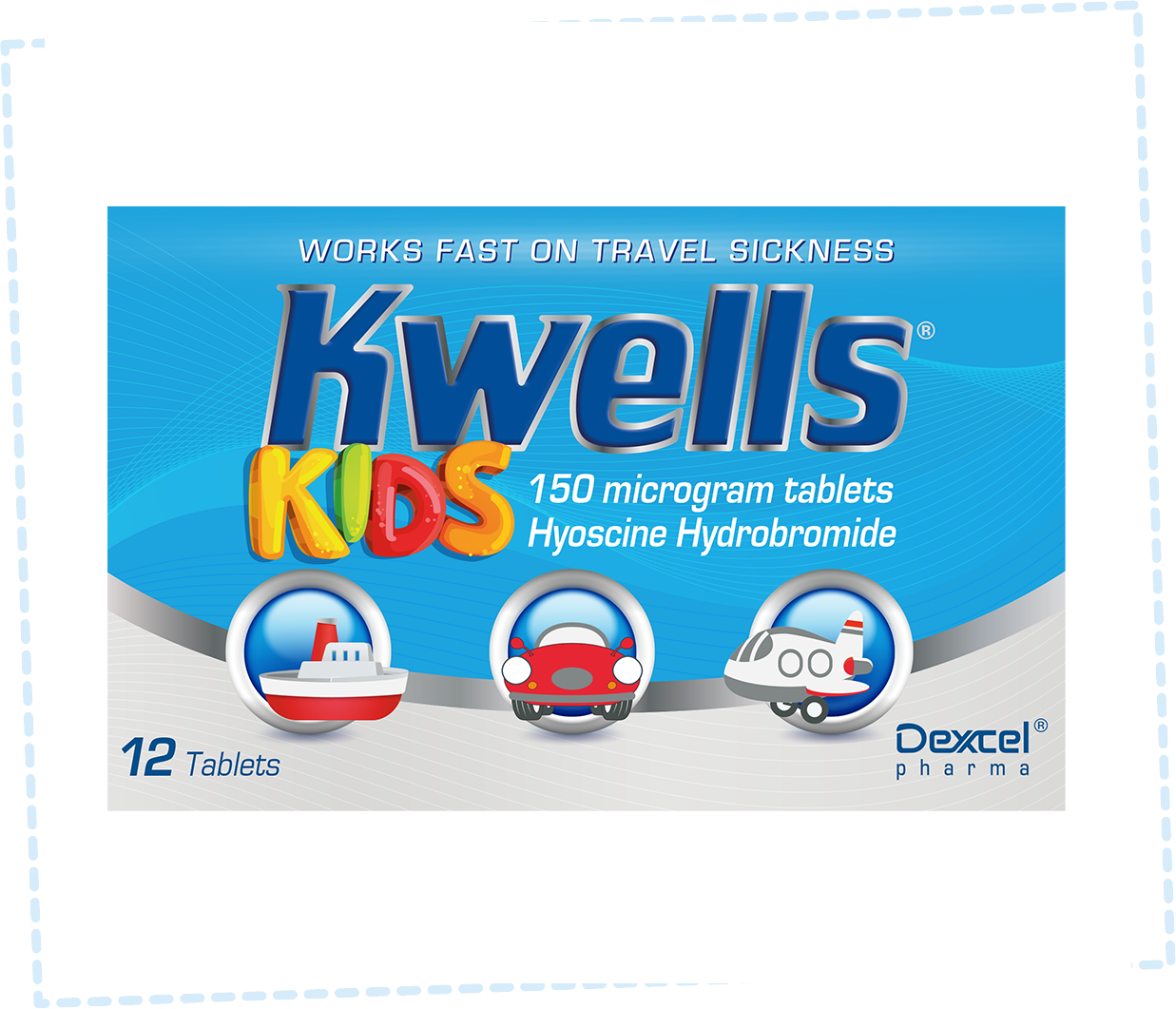 Kwells 300 microgram tablets. For the prevention of travel sickness, suitable for adults and children aged 10+. Contains Hyoscine Hydrobromide 300 microgram. Kwells Kids 150 microgram tablets. For the prevention of travel sickness, suitable for children aged 4+. Contains Hyoscine Hydrobromide 150 microgram. Always read the label